Login
Log in if you have an account
Register
By creating an account with our store, you will be able to move through the checkout process faster, store multiple addresses, view and track your orders in your account, and more.
Create an account
Blog #1. Gold jewellery, know what you buy!
03 Aug 2020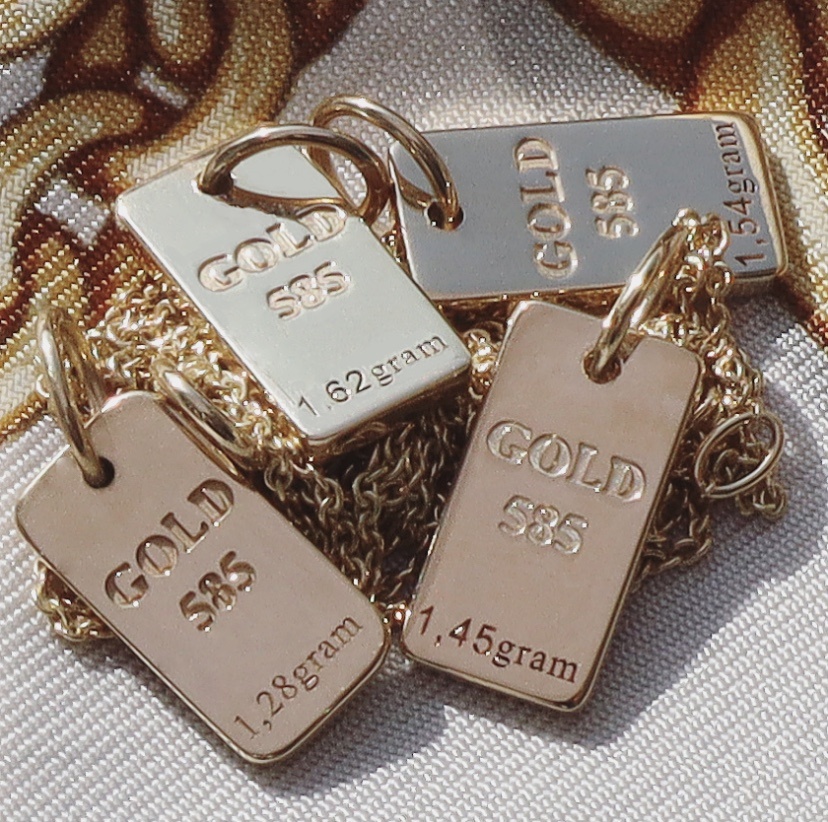 Welcome to this first blog! We are super excited and hope our English is well enough to understand as it is not our mother language :).
In our blogs we will share info and fun facts about everything related to gold jewellery, diamonds and other gemstones.
BLOG # 1.
GOLD JEWELLERY, KNOW WHAT YOU BUY!
Ever wondered what all those terms Gold Plated/ Gilded / Vermeil / Gold Filled etc actually mean? Pretty confusing isn't it? What is what and what does solid 14 Carat gold mean?
In this blog we will explain this to you and put everything together so you will get a better picture.
Don't be fooled, know what you are buying. 
We will explain more about 14 Carat solid gold as well, the material we use in our Chula Jewellery Collection and why we choose for 14 Carat solid gold.
Okay let's get started :)
....................................................................................................................................................
Below we have made an overview of what the terms, with the different kind of treatments, exactly mean. We have listed the advantages and disadvantages compared to 14 Carat gold, which we use in the Chula Jewellery Collection, as well.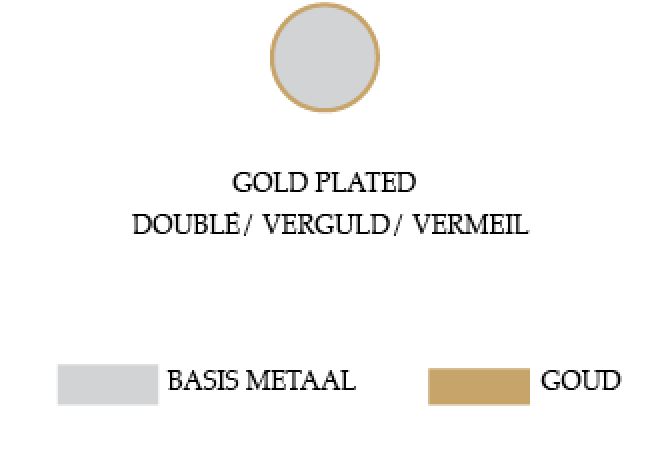 1. Gilded/ Gold Plated / Vermeil
Gilded, Gold Plated and Vermeil actually boil down to the same thing. A thin layer of 14, 18 or 22K gold lies on another material, usually copper or tomb. Vermeil usually lies on silver.
Benefit:
Cons:
Can break quickly
Low value
Layer of gold is peeling off
Discolored material
Can give off a color
Material can irritate or cause allergic reactions
Does not last long
May not be named gold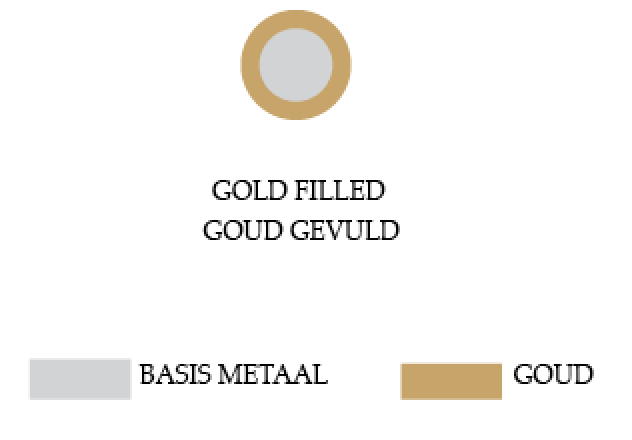 2. Gold Filled
In fact, it is the same as Gilded / Gold Plated / Vermeil, mentioned in point 1. Only the layer of gold is slightly thicker.
Benefits:
Lower in price than solid gold
Will last a little longer than Gold Plated
Cons:
Can break quickly
Slightly higher in price than Gold Plated (processing mentioned in point 1.)
Low value
A layer of gold will eventually go off
Material changes colour over time
Material can irritate or cause allergic reactions after a while
Does not last as long as solid gold
May not be named gold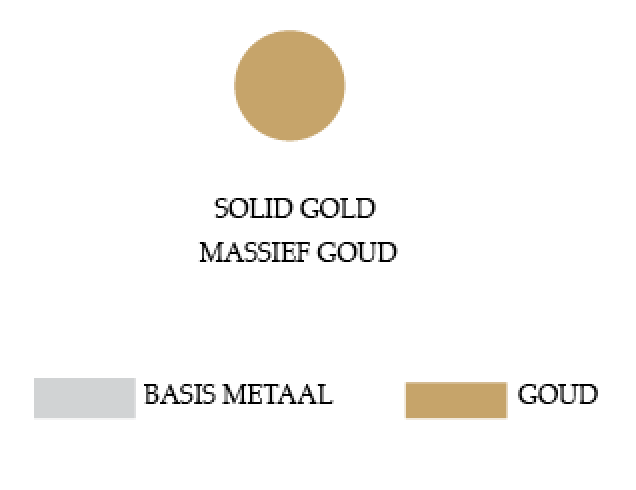 3. Solid gold.
Made totally out of gold and is therefore also called gold.
Benefits:
Does not break, very strong
Will last a lifetime (or even more)
You can pass it on to your loved ones, such as your children
Remains beautiful
Always keeps its value!
Does not change colour
No allergic reactions or irritations
Timeless
Sustainable
Our vision is that behind a piece of jewellery there is always a beautiful story, a memory / emotion. We think this should last forever and should be possible to pass on to your loved ones or your legacy. Time should not compromise on quality.
Because of all the good properties of solid gold, our vision and because we go for quality, we use 14 Carat solid gold jewellery in our collection.
What is '14 Carat 'solid gold?
We have discussed solid gold before, but what does the 14 Carat mean?
The Carat gold indicates the percentage of pure gold that is in the jewellery or object.
24 Carat gold is 100% fine gold, also called pure gold. This is how gold is found.
Since pure gold is a soft material, it cannot be used to make jewellery or other objects. These objects would bend or break very quickly. Therefore, for making jewellery and objects, gold is always mixed with other metals (alloy) to solidify the material. In this way it can be processed into a sustainable piece of jewellery.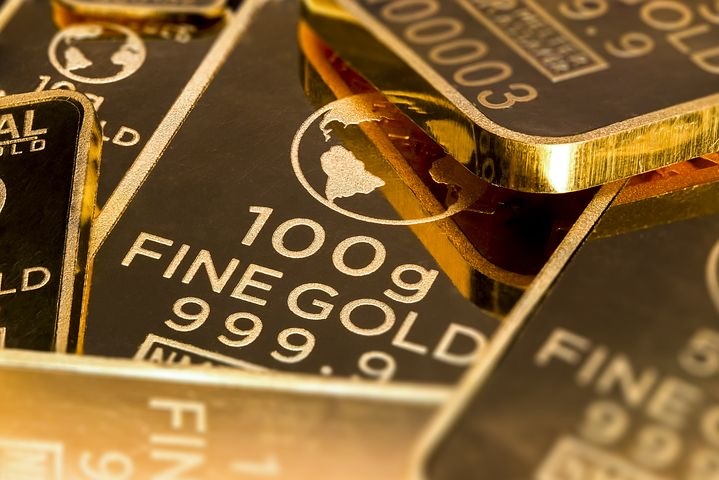 One speaks of 14 Carat if there is at least 58.5% pure gold in the jewellery. The colour of the jewellery can be yellow gold, white gold or rose gold.
De Waarborg, hallmark.
All our jewellery heavier than 1 gram has been tested officially on 14 Carat gold by De Waarborg in Gouda, the Netherlands. This can be seen from the small 585 mark that is stamped in the Chula jewel. 585 Represents the 58.5% pure gold that is incorporated in the 14 Carat gold jewellery.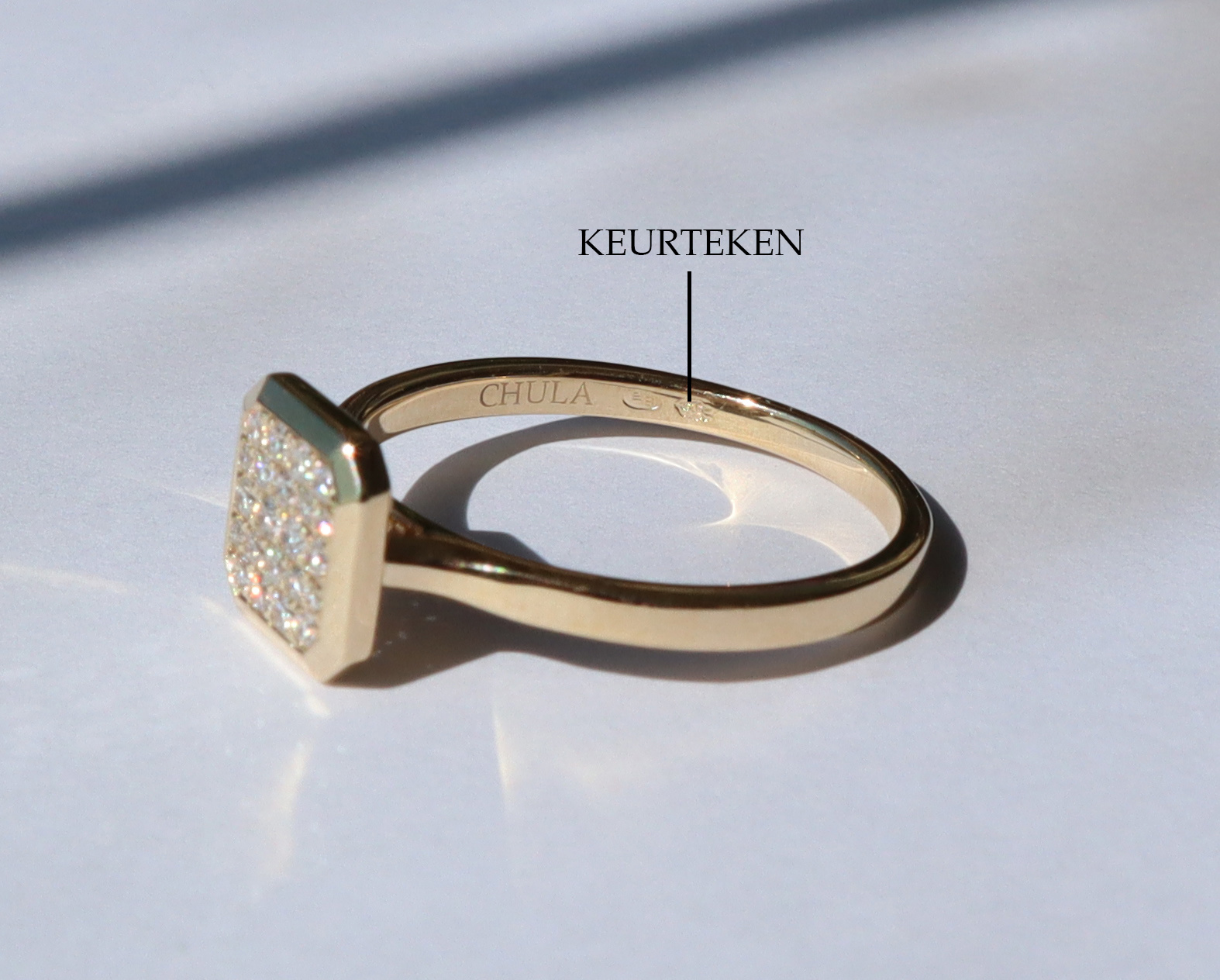 .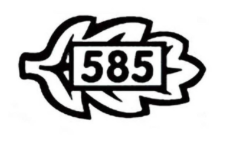 In the Netherlands it's required by law to inspect jewellery by this institution, made out of precious metal, before you are allowed to sell it. This way you are guaranteed you buy the right quality. Good to keep in mind when buying golden jewellery and you don't trust the quality; just check the quality stamp.
When the piece of jewellery is your own design, you will also see the Responsibility Mark stamped in it. This is the sign of the designer.
We hope you liked this first Blog and enjoyed reading it.
Feel free to let us know your comments in the reviews below. We would love to hear from you.
Hopefully until the next blog!
xxx, Team Chula.
Leave a comment